Connect Amazon, eBay, QuickBooks, QuickBooks Online, Sage 50, Sage 100, Microsoft Dynamics and Macola to FedEx Ship Manager® in a few easy steps to start sharing information across your business. From order to shipment to delivery, ShipGear bridges the information gaps to make you more efficient, reduce errors and improve customer service.


Ship your orders in a few clicks
1Enter/scan the order number. Or browse transactions by using a "?"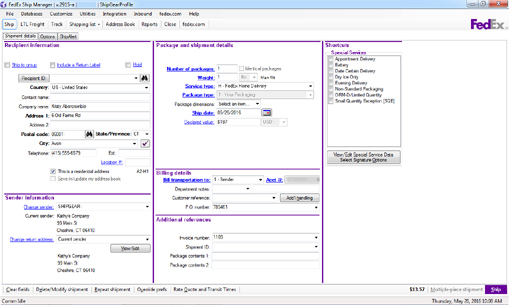 2Weigh the package(s) and process the shipment. Your order is automatically updated with shipment details such as freight and tracking numbers.
NEW – Dashboard – gives the entire office quick access to shipment status, metrics and reporting!
Try ShipGear FREE for 30 days!

Free Trial
The trial version of ShipGear is a full working copy of the software giving you instant integration between FedEx Ship Manager and your business application. Try it today to see why thousands of companies use ShipGear to make FedEx shipping more efficient.
More gear to rev-up your shipping
Freight Rules – rest easy knowing freight is being billed based on your custom settings
eNotify Premium – personalized email notifications to get your message across