Simplify shipping your eBay transactions. ShipGear® for eBay offers a quick and easy way to process shipments. ShipGear transparently connects to eBay giving you live, accurate shipping information directly from UPS WorldShip®. No batch import or export required!
Ship your eBay orders in a few clicks
1From UPS WorldShip enter the Item ID or Sales Record # in the keyed import to access transactions direct …or browse transactions by using a "?"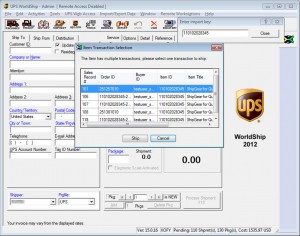 2Weigh the package(s) and process the shipment. Items are automatically updated with shipment status and tracking numbers to improve customer service and keep your Top-rated seller status!

How can ShipGear make your shipping faster and easier?
Streamline shipping, customer service and seller management processes
Improve data entry accuracy and reduce accessorial fees
Inform your customers with automated, customizable shipment notifications
Product service and support delivered directly by V-Technologies
Try ShipGear FREE for 30 days!

Free Trial
The trial version of ShipGear is a full working copy of the software giving you instant integration between UPS WorldShip and eBay. Try it today to see why thousands of companies use ShipGear to make UPS shipping more efficient.
Looking to purchase with UPS CTP funds?

CTP Request
ShipGear is available through the UPS Customer Technology Program for customers who qualify.
More gear to rev-up your shipping
Branded Email – personalize your ship notifications